I had a wonderful weekend. I could write the standard "going to a wedding while you are engaged can be overstimulating" post, but I am going to try to avoid it. You've all read those posts! You know the drill: you think, "this must have cost so much!" "Will I be as happy/relaxed/beautiful as this bride?" "Will people dance this much at my wedding? Even if I don't play 'Save a Horse, Ride a Cowboy?'"
Instead I am going to write about a completely superficial, unimportant wedding detail: shoes.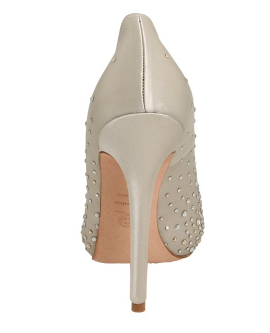 I am not a shoe person. I've observed from both my friends and the general culture that many women have a special love for shoes that transcends their love for other parts of their wardrobe. Don't get me wrong: I recently counted and I have over thirty pairs of shoes. But I don't feel any particular reverence for a good shoe the way I know other women do.
I'm also becoming less and less tolerant of high heels. At the wedding this weekend, I chucked my shoes after the cocktail hour. And then Collin stepped on my feet a bunch of times on the dance floor, but after trying to put my shoes back on I decided that would be more uncomfortable than getting stepped on a few more times.
But this should be a non-issue. I'll be wearing a long dress, so I can find some very sturdy, comfy shoes and just not take any of those pictures of shoes without feet in them. No one will know! It will be fine!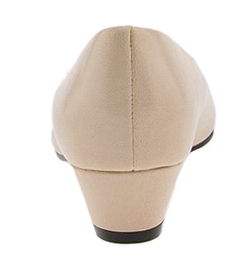 Except I can't quite shake the feeling of inadequacy on this one. When I see pictures of other brides with badass shoes. Shoes I can't budget for. Shoes I probably would hate wearing. Shoes that would make me taller than Collin. Shoes that would make me trip. Shoes I do not want. But I see other brides wearing them, and I think, "Shouldn't I have a piece of art on my feet too?"
Well, there won't be any other brides at my wedding. But there will be a ton of chicks. Chicks in short dresses with their awesome shoes on full display. Chicks in my bridal party/bridal hootenanny, standing next to me in shoes so awesome that people will forget all about my Paramount Importance as The Bride because they'll be unable to avert their eyes from the shoe pretties. I won't get any pictures of me with my grandmother because our photographer will have to devote most of his time to pictures of these incredible shoes, without feet in them, natch.1
Clearly, the only solution here is to start practicing wearing very high heels without tripping. And to stretch Collin's legs when he is sleeping so I can avoid towering over him. Or maybe I should shorten my bones? I wouldn't be the first bride to get plastic surgery in the name of looking the way I am told I should at my wedding. I'll need to find room in my budget—my life budget, not my wedding budget, don't be ridiculous—for appropriately wowsome heels, maybe by turning the thermostat down to 55 degrees in the winter? In the end, it will all be worth it. We'll find some grass, we'll import some fall leaves, I'll take my shoes off my feet, they won't have sweat stains on them, one will rest on its side and the other will stand tall and proud like a beautiful piece of foot architecture, the camera will go CLICK and I'll be a real bride.
1Actually, I kind of love the idea of a picture of all my friends' nice shoes, artfully arranged without feet in them, surrounding my no-nonsense shoes, hopefully with my feet still in them if I can hike up my dress appropriately.