I cannot put off this atrocious task any longer, I need to decide what wording to use for our invitations.
I am a stickler for etiquette rules, and there are a lot of rules about the wording on wedding invitations. The way you list the names indicates who is paying, which is obviously super important so people know who to thank judge.
If our invitation were following etiquette rules and trying to be honest, it would end up saying something along the lines of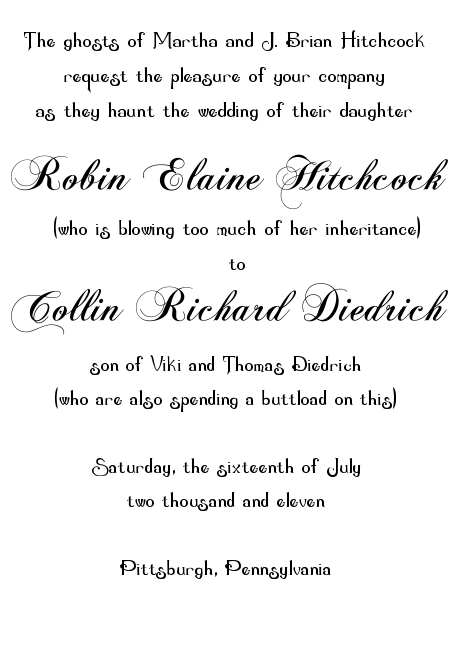 This invitation wording obviously won't do. I mean, for one thing it is too wordy! And while wedding invitations are supposed to tell you who is paying for the thing, but only after use of the Etiquette Decoder Ring that comes in boxes of Emily Post Cereal. This is far too straightforward.
So I think we're gonna blow past that whole issue and use the "together with their families" wording. Which leaves open the question of how to END that sentence: "Together with their families Robin Hitchcock and Collin Diedrich…" do what now? Should we go with the staid "request the pleasure of your company" even though we're already breaking from traditional invitation language? Do we try to "invite you to share in the joy and celebration" of our wedding, or something googedy like that?
I asked Collin for his input on how to end the sentence, and here's the invitation he drafted: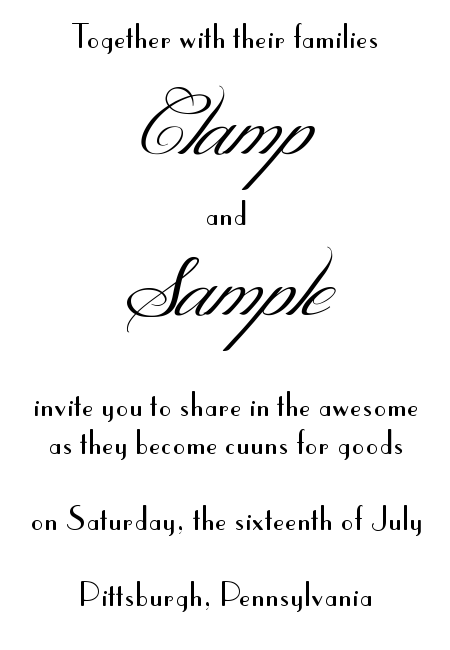 Which frankly, I like a lot better. A few pushes in the direction of the English language and some additional details and that could be the perfect invitation. Except for the ghost of my grandmother terrifying me into believing that if I put the word "awesome" on my wedding invitation the even will lose all hope of grace and my marriage will be subsequently doomed.
ALSO: this entire post was a ruse to get you to comment on those fonts. And/or suggest excellent free fonts we can use for our invitations.