I try not to indulge in insecurity about my appearance.  Admittedly, it helps that I generally think I look good.  But worrying too much about my appearance feels like an exercise in insanity: Beauty standards are warped. There will always be someone better looking.  And good looks are fleeting.
But when it comes to my hands, I really, truly fail with my dreams of Beauty Mythbusting. I've written before about my skin problems.  The first place I ever suffered from eczema was on the knuckle of my right index finger, now I have it all over both hands.  Years of dry, itchy, raw, cracked skin, plus the side effects of the steroid creams I use to alleviate those symptoms, mean I have the hands of a much older woman.  Plus I have to keep my fingernails filed down to the quick, which isn't the most glamorous look.
I really delighted in this post a few weeks back on Shakesville, because I saw Sarah Jessica Parker's un-retouched hands and thought "those look just like mine!"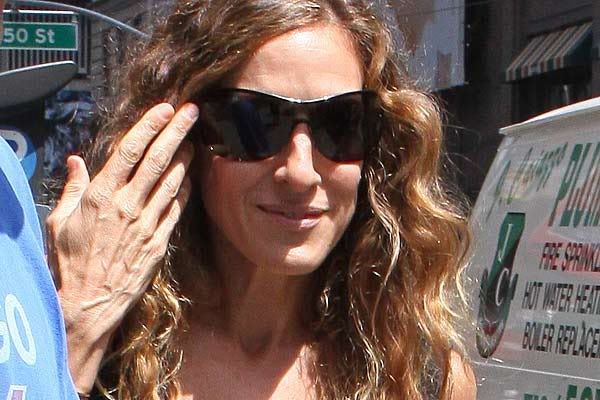 And Melissa McEwan described those hands as "beautiful and remarkable," and not for the first time I wished I could be more like Melissa McEwan.
I mentioned the other day I have a scar through my eyebrow, and that I love it.  I never ever think of it as a flaw in my appearance.  Why can't I feel that way about my hands?  I remember reading The True Confessions of Charlotte Doyle as a child, and when I read these words in the final chapter:
Even as she stood there, holding my hands, a strange look passed across her face.  Slowly she turned my hands over, gazed at the palms, then touched them with her fingertips. "And your hands?' she asked in horror. "They are so . . . hard."
I knew this meant to show the reader that Charlotte had grown as a person; her experiences were showing on her skin.  We're not supposed to be horrified like her mother.  We're supposed to be proud.
Then again, I didn't get my rough hands leading a mutiny against a villainous sea captain, so maybe that comparison doesn't hold water (excuse the pun).
Still, I wish I were more comfortable with my hands, and not just for all these philosophical reasons, but for the simple fact that getting engaged (if you have an engagement ring) means showing your hand to EVERYONE.  Every time I see someone new and they ask to see the ring, I have to shove aside embarrassment about how my hands look.  This weekend I'll be seeing most of Collin's family for the first time since the ring arrived, and my hands are in worse shape than usual: picture SJP's hand up there but with a bunch of scratch marks all over it.
I will probably try to rely mainly on the procedure of taking of my ring and handing it over to anyone asking to see it, even though that can be a little awkward.  In the meantime, I hope I someday learn to love my hard, hyperlinear hands.