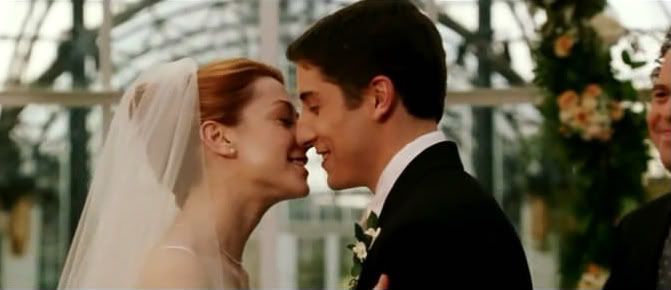 The American Pie movies are weird. They ostensibly exist to present a series of convoluted embarrassing moments involving sex, bodily fluids, or ideally, both. But they're also supremely sappy and sometimes even genuinely heartwarming. Which means the franchise is oddly well-suited to a wedding movie, because weddings are generally a mashup of things that make you cringe and thinks that make you say "awww."
To my relief, after the opening Rube Goldberg of Shame that leaves Jim's erection to a restaurant full of people after he proposes, most of the embarrassments are not suffered by the bride and groom. They're kind of sidelined for much of the movie, actually, probably because happy couples are boring (this is why so many wedding movies are about couples who should not get married breaking up).
The actual plot is a redemption story for Stifler, as he tries to prove worthy of an invite to Jim's wedding and then win the heart of Michelle's little sister Cadence (played by January Jones, whom I didn't recognize until the very end of the movie, which amazes me, because how many pretty blonde actresses with a strangely flat affect can there be in Hollywood? Oh, wait…).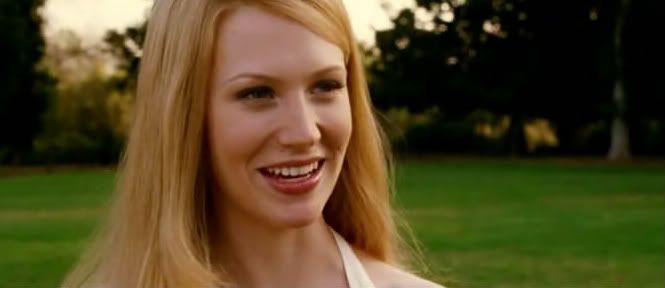 First he puts on a show as being a nice, intellectual, sensitive guy. But pretending to be someone you are not to find love never works. And in an American Pie movie, it also results in you having to eat dog shit.
So eventually Stifler gives up the act, but still wins the girl because she's so impressed by his herculean efforts to save all the parts of Jim and Michelle's wedding that he himself screwed up. Finch, who had been initially charmed by Cadence's beauty and interest in philosophy, very rightly and adorably realizes that the real deal is that she's easily amused and kind of shallow, so she's perfect for Stifler.
I watched this movie because KWu suggested it after I ripped up Wedding Crashers, and that comparison makes me feel more confident that I can say I enjoyed American Wedding without shame. One thing I appreciate about the whole American Pie series is that the sex comedy doesn't come from condemning certain people's desire as laughable. Other movies would laugh at characters like Michelle or Stifler's Mom for wanting sex in the first place, because they're not within a tiny frame of acceptable desirability for young hetero dudes. The American Pie movies don't have that limited, lazy approach to sex comedy. The jokes come from the awkward and misguided things sexual desire makes us do, not from judging people for having that desire in the first place.
So yeah, this is a movie that can depict its characters accidentally having sex with a grandmother or unknowingly partying is a gay bar and somehow manage to only be minimally offensive in either scene. It's kind of a wonder to behold.