For those of you wondering why this is almost an entire month late, don't look at me, look at the CONSPIRATORS! But better late than never, right?
# pages: 378
# pages of advertising: 283 1/3
# pages in longest uninterrupted run of advertisements: 66 [SERIOUSLY. That's a solid 1/4 inch of magazine.]
# images of brides with visible faces: 194
# pictured brides who are undeniably smiling:42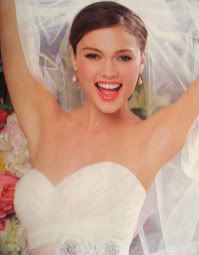 # pictured brides who are arguably smiling:49
# pictured brides with dead or stoned expressions: 59

# pictured brides who look sad, angry, scared, or are expressing some other negative emotion: 44
"Normal" symptom of bridal brain covered in "No, You're Not Crazy": "You want to kill…everyone."
Amount that surprises me given the emotions roundup above: ZERO.