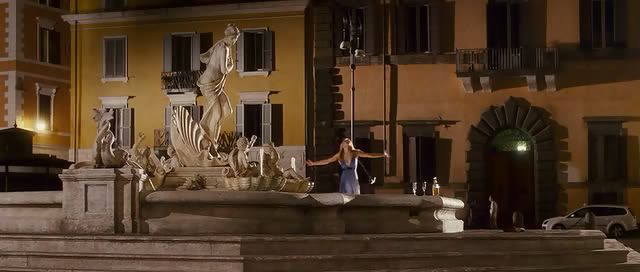 I met most of my friends in Pittsburgh at a comedy show that a few of them run.  I have earned a reputation as a "laugh slut" among them.  My friends are all very funny people, but from time to time one of their bits fall so flat even the crickets stop chirping.  Yet I will still laugh.  I'm easy like that.
Which is why I really started to worry when I realized I hadn't laughed—at all—in the first hour or so of When In Rome. I knew I was having a bad day (I'll spare you the details, but it involves crying while talking to customer service operators and the words "pre-existing condition") but was it really so bad that I couldn't find anything to laugh at in a romantic comedy?  Starring people I find genuinely, wonderfully funny, like Kristen Bell, Danny DeVito, Kate Micucci, Kristen Schaal, and Will Arnett, as well as other people who are allegedly funny, like Dax Shepard and Jon Heder and Bobby Moynihan?  Ghostface Killah has a cameo, and 30 Rock seems to think Ghostface Killah is the world's greatest punchline.
Has my soul died? Is that another pre-existing condition that is going to keep me under-insured until 2014?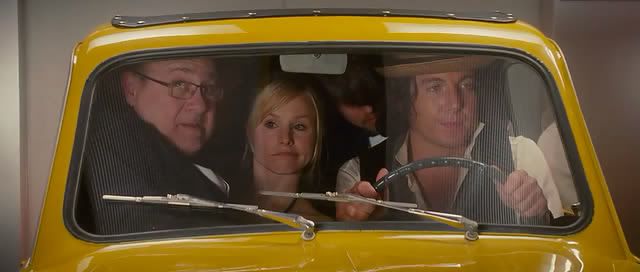 Kristen Bell plays Beth, who is a curator at the Guggenheim and should therefore probably not whine about how her job spoils her love life, because really, who needs a love life when you have a sweet job like that?  (A job that I'm sure comes with fantastic health benefits!)  But then she is publicly humiliated by an ex and finds out her younger sister is getting married all in one night.
Somehow, this wedding happens almost immediately, in Rome, with Chiavari Chairs and all the other wedding movie standby indicators of ginormous unexplained wealth.  After some further public humiliation and the bad fortune to see the groomsman she was hitting it off with making out with another chick, Beth dives into the "Fountain of Love" and pulls some coins out of it.  She thinks she is "saving" the coin-tossers from their delusion that romance exists, but she's actually activating a spell that causes all of them to fall in love with her.  I don't know why the legend would go that way, because it seems to encourage pulling coins from the fountain, which is messy and disruptive, rather than tossing coins in the fountain, which is fun and potentially charitable.
Her bewitched suitors include DeVito as the Sausage King, Heder as an illusionist, Arnett as an Italian artist, and Shepard (who is Bell's actual fiance) as a model.  And the charming groomsman, maybe! [Spoiler alert: The true owner of the fountain toss attributed to the charming groomsman is so clumsily telegraphed by the film I literally feel insulted.]  These guys follow her around declaring their passion in slapsticky ways.  I stare at the screen like this.
Believe me when I tell you that when Beth and Charming Groomsman go on a date in a restaurant where dinner is served in total darkness, and Danny DeVito tells CG "I'm your liverwurst nightmare!" before going all Three Stooges on CG's face, as seen in night vision, that this is exactly the kind of terrible joke which I'd normally be in stitches over.  My friends would all say "slut!" I'd wipe laugh tears away from my eyes and quietly repeat, "liverwurst nightmare!"  But today… nothing.
It doesn't help that the film's tone shifts abruptly from nonsense like the Blackout restaurant and Napoleon Dynamite in a body cast and tiny Italian cars stuffed with five people driving into art museums to trying to make the audience feel saaaaaaad that Beth and CG's romance is potentially fabricated by the magic of the fountain.  Or that sometimes CG's klutziness (disaster-magnet klutziness of the kind typical to women in romcoms, so score one for feminism, I guess) is usually played for laughs, but we're also supposed to be a moved by his sadness over the mid-game lightning strike that ended his football career.   It's hard to begin with to take a movie about a magic fountain seriously, but after so much broad comedy, or at least attempts at comedy, it is next to impossible.
But perhaps the greatest failing of this movie (the one that will most trouble Lyn, for sure) is the non-inclusion of The Promise's "When in Rome" on the soundtrack.  Especially when it is clear that When in Rome does not feel it is above cheap references to Napoleon Dynamite: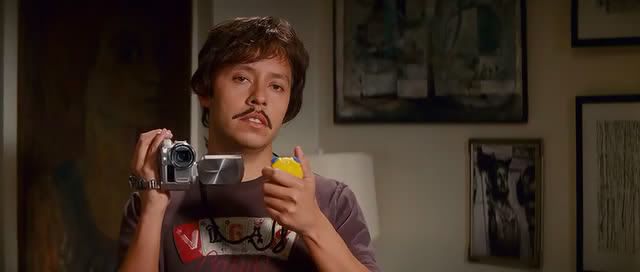 Let's rectify that.  And hope this movie is in fact as bad as I thought it was, because I need all the laughs I can get:
Ok, phew, the hair flip at the 30 second mark cracked me up.  I'm not broken!