Last night I needed a study break, so I asked Collin to look over a "Runway Report" spread in a bridal magazine.1 I wanted a better idea of what styles Collin likes and dislikes so I can avoid picking a dress that he hates.2
You can probably guess how this went, but in case you can't, an abridged transcript, with visual aids [that should link through to the designer, so general warning for horrible web design if you do click]: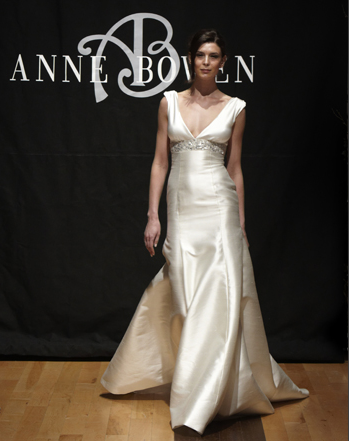 Collin: "What's going on there?  That dress has titty knapsacks."
Robin: "Is 'titty knapsack' a good thing or a bad thing?"
Collin: "Are you kidding? A bad thing."
Robin: "I actually really like titty knapsacks.  I pushed hard for a bridesmaid dress with titty knapsacks for my sister's wedding."
Collin: "Well then I love it too!"
Robin: "Collin, that is not the point of this."
Collin: "Sorry.  I don't know, it just looks really old-fashioned, I guess?"
Robin: "That's what I like about it.  I think old-fashioned things look glamorous.  Plus our venue is old-fashioned."
Collin: "Well, you can look old-fashioned without having your boobies in slings, right?"
Collin: "I like this one.  It looks like a nightgown."
Robin: "Yeah, that nightgown costs over five grand."
Collin: "Well why don't you just wear an actual nightgown? That would cost only like thirty bucks."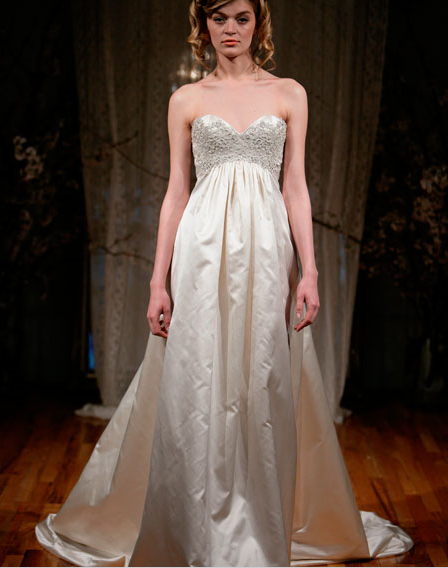 Collin: "Is that a dress for pregnant chicks?"
Robin: "No, that's just an empire waist.  It's a very popular style!"
Collin: "For pregnant chicks?"
Robin: "For chicks generally.  They're really flowy and pretty."
Collin: "They flow over your pregnant stomach, you mean."
Robin: "You're crazy.  I have at least one empire waist dress that you think is super cute."
Collin: "I will think you are super cute when you are pregnant, though, so that doesn't prove anything."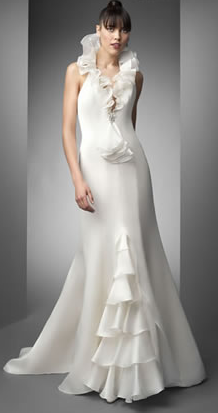 Collin: "Get that dress, Patootie!  You can be my little cutie Moon Bride!"
[I'm just going to let that comment stand on it's own.]
Then I saw a dress that I thought was particularly awesome, and as a test asked Collin to try to pick it out from the two-page spread it was on.  He passed.  We agree that it is super cool.  Then we agreed to try to forget it ever existed because it costs more money than God's dress: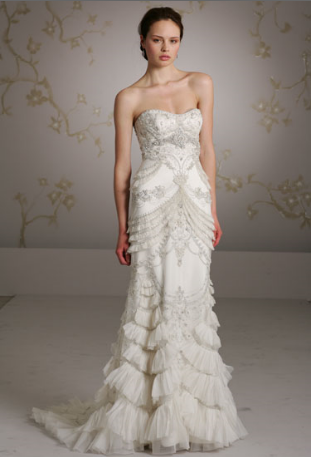 Collin: "That is pretty sweet."
Robin: "Yeah, it's awesome, but I can't afford it.  To make myself feel better I'm focusing on how I'm not crazy about the ruffly bits on the bottom."
Collin: "Yeah those are kind of weird.  But I saw them on a lot of these dresses."
Robin: "I know. It's a whole thing. Blame Vera Wang."
Collin: "Blame who?"
1In hindsight, I never should have looked at these dresses, because none of them are remotely affordable.  Although I guess it is nice to know the name of the designer that will be ripped off by the dress I ultimately buy.
2I may still pick a dress Collin hates. Knowingly. I'm a free bitch, baby.