[Note this is really only a review of the first 45 minutes of the movie, the wedding part of the movie.  This blog is much more suited to "my colors are blush and bashful" than "I want to know WHYYYYY!"]
I remember a time in my childhood when Steel Magnolias was the go-to chick flick for lazy sitcom writers.  What I truly hate about the "chick flick" designation is the idea that by being "for women," a piece of entertainment becomes categorically NOT for men, without the reverse being true.  Lazy sitcom writers never rely on the innate hilarity of a woman watching Predator.  Anyway, Steel Magnolias' reign as the quintessential chick flick probably ended with Sex and the City's coup of the cinema screen.  I'm guessing current scouting-aged girls are unaware of Steel Magnolias.  Which is really a shame, because it is a delightful movie.
I certainly watched this movie on basic cable at least a half-dozen times in my girl scout years, but there were certain things that I only noticed for the first time this viewing.  Things you can only see through wedding-obsession goggles!
1. BLUSH and BASHFUL.
Blush and bashful != pink and pink.  ColourLovers confirms "one is much deeper than the other."

When I was a kid and people asked me what I'd want to do when I grow up, I went through a phase where my answer was, "I want to name the colors in catalogs."  I thought that was a job, and I wanted it.  I suspect if that imaginary career existed, the real money would be in the bridal field.  Because selling a cashmere cardigan in "morning sky" is one thing.  Selling "morning sky" as a wedding color means you can sell bridesmaids dresses, stationary, bouquet holders, ring pillows, nail polish, candied almonds, ribbons, photo albums, confetti, place setting chargers, cupcake liners, vase filling "crystals"… pretty much any object that can come in a color and could be conceivably related to a wedding.  Cha-ching.1
2. Bunting
I read wedding blogs for a while before I finally figured out that "bunting" means "those little flags on strings."
However! Steel Magnolias suggests bunting may be any festive use of fabric to decorate.  Because Shelby tells the ladies in the salon that her ceremony decorations include "pink silk bunting draped over anything that would stand still."
Which looks like this: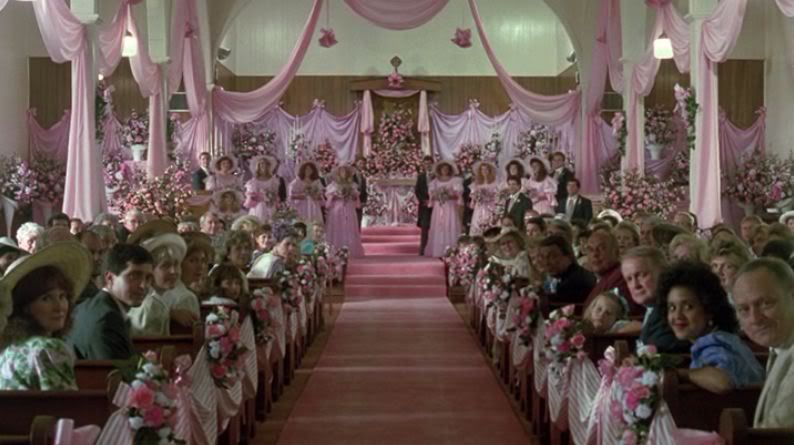 The Big Green Dictionary of I'm Right and You're Wrong sides with wedding blogs: "Bunting, n.  A thin woolen stuff, used chiefly for flags; also, a cotton stuff imitating this; hence, flags collectively."
3. Morning Coats!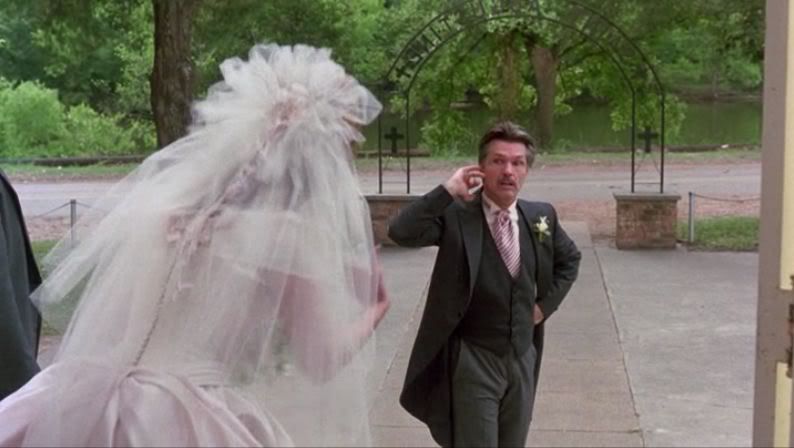 The HitchDied debate of suit vs. tux rages on, but at least we're not getting married during the daytime so I don't have to push the hard sell of morning coats.  I think morning coats are the coolest.  I think I like the idea of the men being in wedding costume, because the women usually are (although as matching bridesmaid dresses become considered a sign of rudeness, and brides eschew the long and the white "requirements" for wedding dresses, this may become less and less true).  I'll just have to become Solicitor General to satisfy my morning coat lust.
4. Backyard Business
This movie certainly makes it clear that a backyard wedding reception can be a huge production.  Before the first line of dialogue, we see at least a dozen wedding professionals milling around the house carrying rented glassware from trucks, hanging flowers, carrying umbrellas.  It reminded me of Rachel Getting Married, minus the musicians and people of color, plus Tom Skeritt shooting off blanks to scare away pigeons.  I wonder if big shot wedding planners have birdscare technicians on staff.
5. Groom's Cake
Two years ago, I went to a cousin's wedding in Texas, and I said I'd never heard of a groom's cake.  Someone said, "How could you forget the armadillo in Steel Magnolias?"  Friends, I do not know how I could forget such a wonder: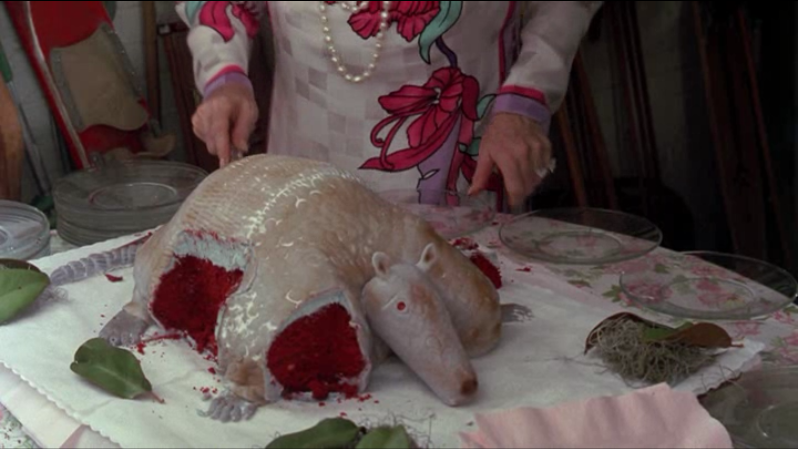 I am now fantasizing about being a guest at a Southern wedding, wearing a simple pastel frock with a string of pearls and stunning hat, and eating a slice of groom's cake meant to look like a piece of dead animal.  Whether the cake is deliberately an homage to Steel Magnolias is immaterial, either way it will be the best wedding I've ever been to.
1Although based on my reading of Qualitex Co. v. Jacobson Products, Inc., 512 U.S. 159 (1995), I think that you couldn't actually get trademark protection for "morning sky" because the color would be functional instead of source-identifying; and before you'd be able to establish secondary meaning in the marketplace you just know David's Bridal would add "Dawn" to its color swatches and you'd be screwed. But I suppose the legal particulars of an imaginary profession aren't that important.