Something I edited out of yesterday's post [Lower your eyebrows! I edit my crazy blog screeds. Some.] was the notion that the trend toward having bridal attendants select their own formalwear is, I suspect, not entirely motivated by convenience, respect, or even aesthetics. I think a really good reason to let your attendants pick their own clothes that no one cops to is covering your own ass. If you didn't pick the dress, you can't be judged if it is—gasp!—tacky. And I think we're all looking for one less reason to be judged.
Sarah wrote a great post [all of Sarah's posts are great] about wedding insecurity, about those scary concerns that we're ruining our own weddings, making choices which confuse our guests or executing these choices in less-than-perfect ways which will disappoint our guests.
I think we all worry about this sort of thing, especially because of the common narrative in wedding culture that our guests are not so much our family and friends as they are a mass of Professional Wedding Critics. The Knot's newsletter this week leads off with "What are your guests really thinking? Are they judging your dress? Do they hate the food?" [This is a direct quotation, people.]
In reality, I think most wedding guests' thoughts go something like, "Oh, this is nice, they look so happy. Where is the bar?"
But according to the Knot, wedding guests have common complaints, most of which start with the word "You." Meaning "the bride." Your guests aren't just here to judge the wedding, they're here to judge YOU. Because everything in the wedding is a reflection of the bride, right? [What is this "groom" of which you speak?]
In the narrative where wedding guests are an army of Waldorfs and Statlers, bridesmaid dresses are a common target: "I can't believe she picked that color." "That fabric looks so cheap." "She obviously was trying to make her friends look dumpy so she would look better in comparison."
These comments all sound so familiar, even though I'm not sure I've ever heard them in real life. I mean, on the one hand, I get it: stiff polyester satin isn't most lovely fabric, strapless dresses present bra challenges not every woman can handle, and then there are those mythical bridesmaid frocks that give dresses a bad name: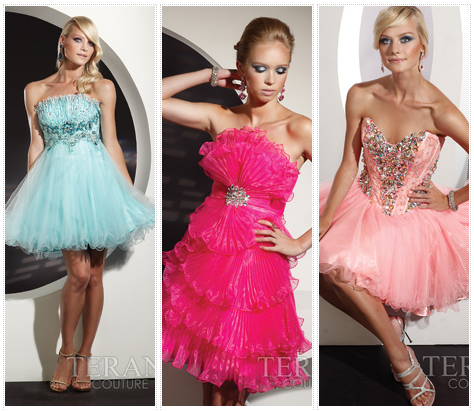 [via Unique Vintage]
[Although, truthfully, my dream is to be in the wedding of someone who wants to put her bridesmaids in a dress like that hot pink number. I desperately want the excuse to wear something like that and look effin' hot in it.]
In real life, bridesmaids dresses are rarely if ever that offensive, but they still have this reputation as a cruel punishment brides inflict on their friends. Maybe this is just because haters gonna hate [t-shirt HT to Lexi]. But it also adds fuel to the raging fire of bridal insecurity, insecurity which retailers and advertisers are here to remind us can only be quelled by dollah dollah bills.