One of the primary functions of an engagement ring is a message to the outside world: "Sorry, spoken for."  But rings say so much more than that.
To some folks, having a big ol' diamond on your ring finger says something about your ethics.  But let's face it, to other people (A LOT of other people) the particulars of the ring of your finger say something about your social status.
There's pretty much no way around the fact that at least some portion of the people who see the ring on your finger are going to quickly calculate some guess as to how much that ring cost, and extrapolate from that a judgment about your economic status, your social class, and by extension your entire life.
This pulls both ways!  I have an acquaintance whose ring features probably the biggest diamond I have ever seen in real life that is not cursed. This diamond is so big that it can sometimes be hard to look her in the eye during conversations.  Her diamond makes me feel like a horny fourteen-year-old boy talking to a woman with large breasts.
I cannot speak to her feelings about that ring, but  I can just say that having such a gigantic diamond on my finger would probably embarrass me in certain circumstances.  Plus I figure it will eventually cause curvature of her spine.
On the other hand, many people sweat the smallness of their diamond.  I've certainly heard women with smaller diamonds refer to them as "starter rings."  I think that is because, at least for young people in the US, it is acceptable to be currently poor as long as you plan on future wealth.
And for the provider of the ring (often a man, bringing in a new mess of gender issues on top of class ones), the status message can be just as, if not more, important.  My cousin Rocky, who coincidentally got engaged the night before Collin and I did, explained to me last Thanksgiving that despite his low salary (he's a detective in Baltimore) he feels (felt? I've painted myself into a verb tense corner) obligated to buy an obviously pricey engagement ring because he drives a Corvette.  He wouldn't want anyone to think his car was worth more to him than his wife.  That kind of made me want to barf, but at the same time I couldn't deny that it made a certain kind of sense.
The diamond on my ring is around 0.7 carats.  I think this is a fantastic size, the perfect size, because it is the size I actually have and OMG I LOVE MY RING.  My guess is that is on the small end of the average range?  I don't really have a basis for this other than the skewed sample of law school people and the nonsense that is published in advertisements in bridal magazines.  Internet research on this subject has, unsurprisingly, produced a wild variety of answers.
[I also attempted to conduct a totally unscientific poll of my friends who happen to be on GChat at this second asking what size diamond they'd want on an engagement ring. I got a lot of specific details about what they want in a ring ("Platinum band, Tiffany setting." "No bezel setting." "I want it to be flat enough I can wear gloves over it." "I want a green diamond! It is RADIOACTIVE!") but no one really knows what carat weights look like so they couldn't comment on that.]
But I honestly don't think people react much to the size of the diamond on my ring, not only because it is fairly middle-of-the-road, but because the most striking thing about the diamond is that it is brown.  A lot of people don't even know that diamonds come in brown, so it's a distracting feature.    Some people think it is awesome, or are good at acting like they do.  Other people say "tactful" things like, "what's important is that you like it."
So… all of this has basically been a preface to showing you my engagement ring.  In so doing I feel obligated to linking to the designer, which will give any gumshoe readers the opportunity to calculate approximately how much it cost.  This makes me uncomfortable: For some people the cost will be too great! For other people the cost will be too little!  But… that is what this whole post is about.  I wear this status indicator every day, and now I am putting that signal on my blog.  Even though it is squirmy.
But let's ignore that.  Let's just say, "ooooh, pretty!"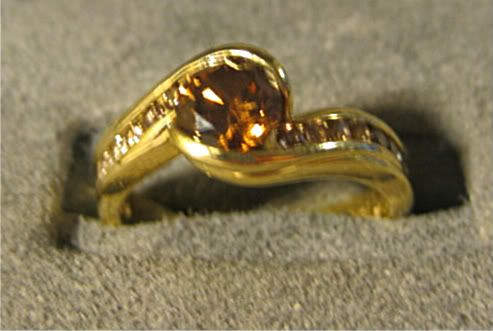 [And yes, it took me around 839 tries to get that photo even remotely in focus.  There was a cat hair in frame that kept distracting the camera.  And it's the "ring in a ring box" picture I adamantly refused to put on Facebook when we first got engaged.  Instead I posted a picture of the ring up Collin's nostril.  My aunts were... amused.]