Father of the Bride tells the most important wedding story of all: the story of masculinity in peril.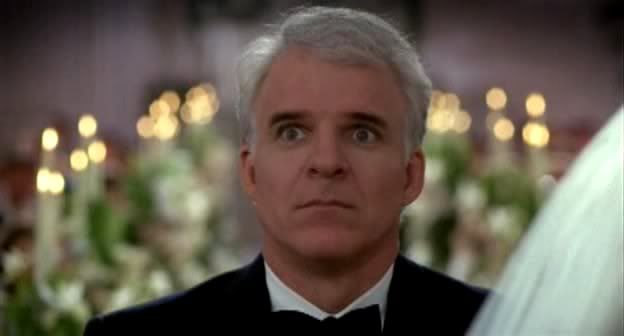 It's a remake of a 1950 movie starring Spencer Tracy. Never having seen it, I don't really know what the original movie is like.  But I do know some of the things that happened in the United States between 1950 and 1991.  A sampling: Hormonal birth control! The Feminine Mystique! Title VII! Legal abortion! Title IX! A woman on the Supreme Court! Three seasons of Murphy Brown!
But you'd never guess from this movie.  There are two major themes:
1. Steve Martin freaking out over losing control over his daughter to her husband-to-be.
2. Steve Martin freaking out over how expensive the wedding is.
Because losing control over a woman and losing thousands of dollars mean that Steve Martin is losing his manhood, and therefore losing what makes life worth living.
Perhaps surprisingly, I have less to say about the first theme.  It's played so arch that I think it successfully crosses over into successful parody.  I certainly laughed out loud when Steve Martin envisions his 22-year-old daughter as an adorable 7-year-old as she describes how wonderful and brilliant her fiancé is.  It's a little less funny when you contrast his "you're still my baby" treatment of his grown woman daughter with his interaction with his ten-year-old Culkin son, whom he regards as a peer.  He does not trust his adult daughter to decide whether she needs to wear a jacket, but he trusts his small boy son to re-park dozens of guests' cars during the reception.
Disturbing, but still I found myself much more rankled about the "dear lord the cost of weddings!" plotline.  Now, I understand from personal experience that even people with privilege can/should/do worry about their wedding budget.  But I still think it is kind of offensively off-putting that the masses are asked to relate to the wedding budget panic of the driver of that Aston Martin and owner of that house: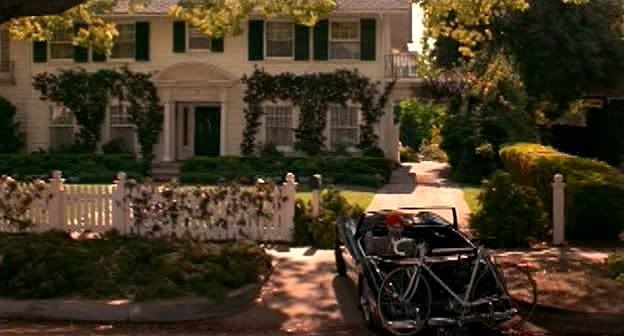 The first ten minutes of the movie outline how comfortable Steve Martin's lifestyle is: He's got a laughably improbably successful sneaker manufacturing business, with the whitest, least-sweatshop-esque factory in the history of athletic footwear.  He's got the aforepictured Aston Martin and big house with a white picket fence in picturesque San Marino, California (Southern Californian cities named after European microstates: definitely dead center middle class, right?).  He's sent his daughter to Rome to study for her Masters in architecture, but she still lives at home when she isn't abroad.
However will this family afford a wedding?!?!
Perhaps they could ask the groom's family for assistance? They do live in Bel Air after all.  They are, by Steve Martin's estimation, rich people.  But he also thinks that it is truly offensive for them to offer to help pay for the wedding.  He's the father of the bride, after all!  How dare they take away his problems like that?
Or maybe they shouldn't hire Martin Short's wedding planner, Franck, of ambiguous European origin and not-so-ambiguous sexuality.  Gay wedding planners = instant comedy!  They can recognize fabrics!  They wear turtlenecks! They pronounce "cake" like "cock!"   And they incorporate new expenses into weddings, like tulip beds, live swans, and Chiavari chairs.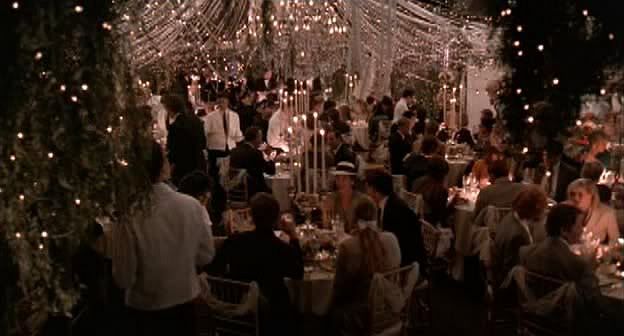 What really happens is that Steve Martin is told by Diane Keaton, his better half, that all his money panic is taking little pieces of his daughter's happiness away.  So he shuts his mouth and lets the money fly, returning to his core obsession of losing his little girl.  And then the wedding reception is so busy he doesn't even see his daughter off.  But she calls from the airport to tell her dad she still loves him.
Moral of the story? You can buy your daughter's love.  Even after she has a husband.  Rich white men of the world, relax! It's all good.