Last Sunday Collin and I attended a Crate & Barrel "registry event." We dropped in the store (which is brand new to Pittsburgh) a few weeks ago to check out dish patterns and were immediately made as an engaged couple and invited to this event where the store opens early for registering couples so they can be given lots of attention to manage all their annoying questions like "is this carafe hand blown?" all while mingling with other engaged couples over mimosas and pastries.
It was disappointing. First of all, growing up without religion has left me extremely ill-prepared to do anything outside the house before noon on Sundays. The event started at 9:00AM. There was coffee, but it wasn't enough.
Particularly because the mimosas did not exist. There was a carafe (and I don't know if it was hand-blown, but I'll get to that in a minute) of freaking seltzer water with strawberries floating in it. And the pastries amounted to one stale apricot danish cut into thirty thumbtack-sized pieces. Sorry to be an entitled bitch, but when I'm promised mimosas and pastries, I need more than fruit chunks in seltzer water and crumbs, especially at 9:00AM on a Sunday.
It got worse from there: the woman running the event pointedly handed the scanning gun to the dude in every couple, and a checklist to the woman. UGH. BUH. BOO! I wonder what she would have done if there were a gay couple there? Given the gun to the more butch partner? I WISH I WERE JOKING. This whole idea that men can only be made to tolerate wedding planning/domesticity when given toys, and women crave ever more wedding-related check boxes makes me feel pukish. And goddamnit, I want to use the scanner gun! That's like 2% of the reason I got engaged in the first place!
The tour of the store was very spend-pressure-y ("be sure to register for furniture, just so your guests have an idea of your taste. And you never know, maybe a group of friends will go in on a $1,200 chaise."1) and not nearly as informative as I wanted it to be ("The type of cookware you want depends on what kind of cook you are." Full sentence. No follow-up. Not about what kinds of cook there are, and not about which cookware suits which.).
The lameness was not all Crate & Barrel's fault, though. None of the couples talked to each other. I tried a few times to break the ice ("A multi-use avocado tool? What a space saver!") but heard only crickets. Wedding blogs have spoiled me into thinking everyone else getting married around now will be awesome and friendly.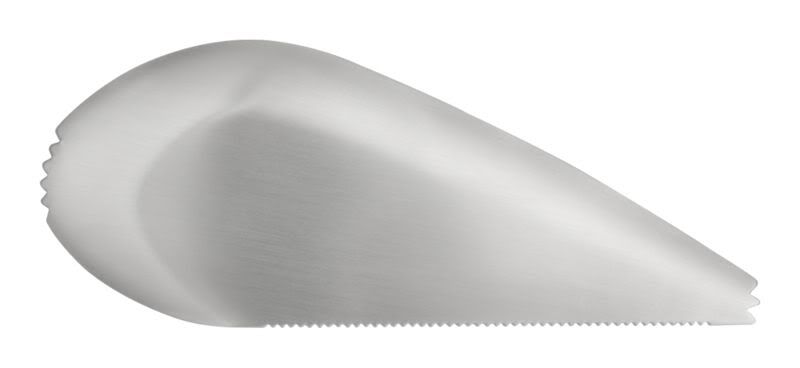 We're also to blame. Collin and I were both grumpy and indecisive. Collin has bizarre issues about receiving gifts/attention that I blame on him having grown up with a twin sister, in particular one who is abundantly enthusiastic about everything she encounters. He got his painfully uncomfortable "present face" from the moment we started (or should I say HE started, grr) scanning. He wouldn't make choices because he doesn't like getting presents. I wouldn't make choices because I don't like making decisions. It was a very unpleasant stalemate.
And I couldn't help but conflate Collin's lack of enthusiasm about registering for a lack of enthusiasm for getting married, even though intellectually I knew that wasn't fair. Plus, all jokes aside, I really do want that avocado spoon thingie. Registering isn't all bad.
1Confidential to Liz: I only included that link because I know you already have a chaise. If you didn't, I'd censor that for your own good. You know I love you.