Spring is almost here, so Victoria's Secret is pimping out its new bridal lingerie. I LOVE lingerie, so you'd think I'd use my wedding as an excuse to drop big bucks for something lacy and flimsy for sexytime.
But I don't really have that impulse, maybe because I don't usually need excuses to waste money on lingerie, so the itch is already scratched, so to speak. Plus, the common anti-lingerie argument of "you have to interrupt things to put on a costume that you end up tearing off within five minutes" resonates when I think about my wedding night. I've said that I think we'll be too tired after our wedding for sex, but if I'm being honest with you, I want "wedding night" sex so much I bet we're going to TRY. But I also bet it is going to be terrible, terrible, LAZY sex. There is no way I'll have the energy to put a costume change into the mix.
[I just realized that I can totally wear some lacy piece of "bridal" lingerie for the night BEFORE our wedding, which we are totally spending together, "tradition" be damned. Man, I'm so good at convincing myself to spend money.]
Anyway, which leads me to the original point of this post: "foundation garments."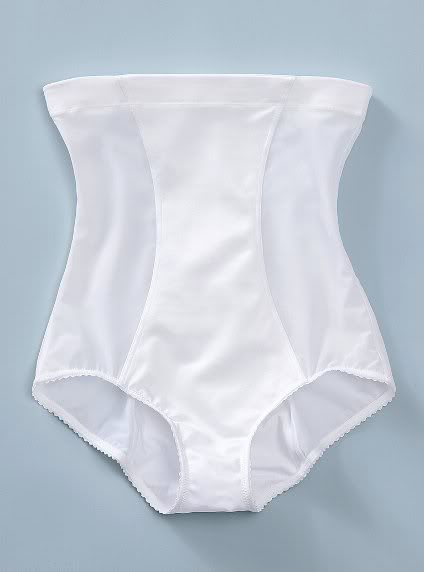 Victoria's Secret's "wedding day" collection is mostly lycra and boning and shaping/slimming/smoothing. Just looking at this stuff makes me feel hot and bothered, and not in the good way.
I've worn shapewear before, because my gigantic dress collection involves some sheer or silky numbers that require it. I think it is hot and uncomfortable. Wearing shapewear is probably the only thing I do in compliance with the beauty myth that I TRULY hate. Well that and plucking my eyebrows. So I only do it very rarely. And under protest.
The idea of spending a long, busy, day, with all that drinking and dancing and getting hitched and stuff squished into a spandex tube is really, really unappealing.
My preferred wedding-day lingerie is this: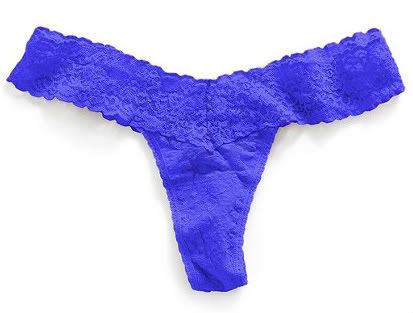 And maybe those stick-on boob pads. MAYBE. (My dress already has those "bra cups" sewn in from when a model wore it at a bridal show.)
But some tiny part of me thinks "It's my wedding day! Everyone will be staring at me! If my waist isn't cinched and my butt isn't boosted, they'll JUDGE ME." This is part is related to the part of me that worries over not fitting into my dress. That part of me needs to be stopped.
Did you/are you wearing foundation garments under your wedding dress? Do you want to preach it's life-changing virtues to me? Or should I resist the siren song of shapewear, follow my instincts and go with lingerie minimalism on my wedding day?
["Lingerie minimalism" just surged to the top of my search engine hits.]