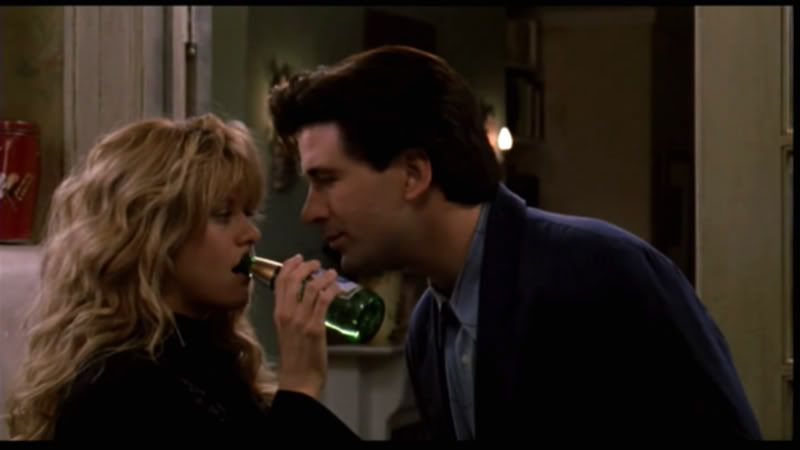 Because they are adorable, Collin's parents send us a care package for every holiday, full of candy and seasonal tchotchkes and and usually a movie.  Our Valentine's Day package came this weekend, with a movie that has a wedding in it!  I hope Viki did that on purpose.
I also hope that Viki is hip enough to have purposefully sent me not only a wedding movie, but a truly insane wedding movie.
The first 40 minutes of Prelude to a Kiss are pretty standard romance fare covering the meet cute to the wedding.  Alec Baldwin's Peter is a straight-laced publisher of scientific microfiche. Meg Ryan's Rita is a free-spirit, which you can tell because she is sexually forward, wears berets, never sleeps, and interrupts conversations so she can jump up and pull leaves off of trees.  You know, like a four-year-old might.  She's a Manic Pixie Dream Girl of the highest order.
And then a creepy old man crashes their wedding.  Meg Ryan, in true MPDG fashion, doesn't mind that he's crashing and offers him her blessings and a kiss.  A kiss with, I swear I am not making this up, SWAPS THEIR CONSCIOUSNESSES.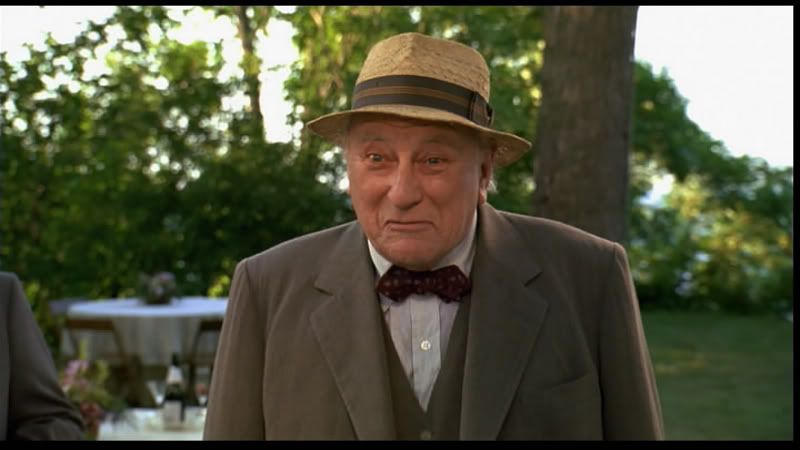 It's like they were shooting the scenes chronologically, but the director realized halfway through that no one cares about how two annoying people met and fell in love and decided to make an entirely different movie.  Or maybe the producer read a piece in Reader's Digest about the Capgras delusion, ran onto set screaming, "Cut! CUT!  THIS is the movie we're gonna make!" [Wikipedia says it is an adaptation of a stage play, so I guess that isn't really true, but I like my lie better.]
No one notices that Rita is acting like a creepy old man for most of her wedding, because Manic Pixie Dream Girls are so unpredictable!  It takes Peter about half of his honeymoon to sort it out.  The smoking gun is that "Rita" can't recite the recipe for a Long Island Ice Tea, even though she works as a bartender.  [I mean, give her a break! That's a long and complicated drink recipe.]
When they return from the honeymoon, "Rita" acts much more herself, but Peter cries and accuses her of having studied up by reading Rita's journals.  He sounds mentally ill, so Rita's dad suggests he get professional help.  Rita's mom, a little more calm about her son-in-law's symptoms of psychosis, tells Peter that he's just realizing his wife is a real woman and not a Manic Pixie.
Meanwhile, Peter and the One True Rita, trapped inside the Creepy Old Dude's body, reunite at the bar where Rita used to work.  Peter knows it is his wife inside that Creepy Old Dude because she orders a Dewar's, and Rita is the only person in the world who orders cheap scotch by calling the brand.  Peter quizzes her about the stuff they talked about during the boring beginning of the movie and she passes his test.
So Old Man Rita and Peter try to live their lives together, but Peter respectfully declines to have sex with an old man.  [Other than this, the movie is oddly silent on gender and sexuality, which is better than the transphobia-for-laughs you might expect from a movie with this plot, but still something of a waste of potential.]   I am surprised they don't at least cuddle, though. Maybe that doesn't come up because Rita doesn't sleep, even when in a different body? I can't think about this too hard or I will never sleep again myself.
This is where the serious conversations about love, identity, and mortality kick in.  [If I didn't know by now this was originally a stage play, I would have guessed.]  So Prelude to a Kiss has gone from being a boring romance to being a boring and pretentious metaphysical meditation.  Not an improvement!
Peter and Old Man Rita eventually corner "Rita" and threaten her with a carving knife until she kisses the old man again.  Because they've seen movies before and assume that is how they'll switch back.  But that doesn't work.  Instead Rita and the Old Man have to come to some kind of simultaneous inner peace about themselves to get back in their original bodies.
The Old Man feels better because he's experienced the mystical life-creating wonder of womanhood or somesuch bullshit, and it made him realize he doesn't really want to live forever.   Rita feels better because she doesn't have lung cancer and cirrhosis anymore.  Peter feels better because the person he loves is back in a body he wants to bone.   I feel better now that this movie is over.