My mother-in-law Viki called me earlier today and asked what I thought about having a co-ed wedding shower. "Awesome!" I told her. Dividing the attention with Collin? Still getting presents? Sounds like I'm making out like a bandit.
She checked in with Collin, he approved, and plans started hatching for a super-chill BBQ shower.  And then she headed out to a stationary store with a friend and fellow shower-host and looked at invitation options.
And then she called me.  "Robin… some of these invitations they are selling… you're probably not going to like them very much.  Maybe we could send them as a joke, but I think you would be too upset by them to laugh."
"What could be so upsetting about shower invitations?" I asked.
Stupid question.  Whenever the wedding world has the opportunity to bewilder, irritate, and outrage, it finds a way.
Here, it is with the assumption that the theme of a couple's shower must be Fundamental Gender Differences. Observe: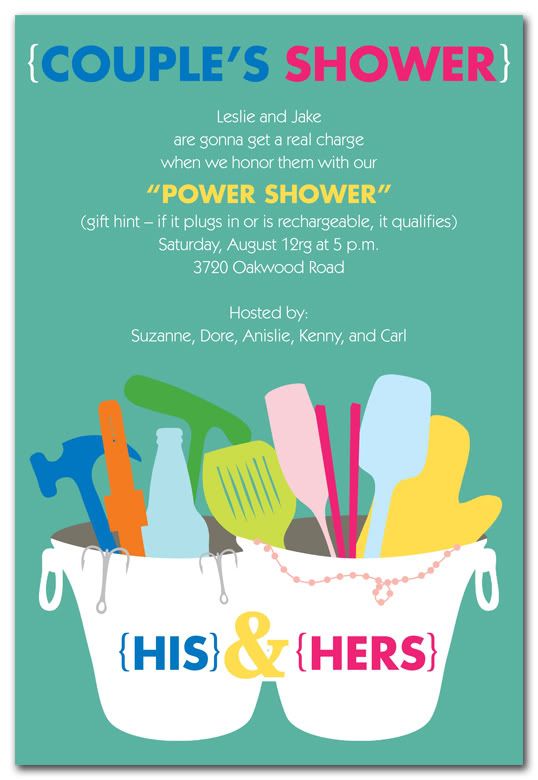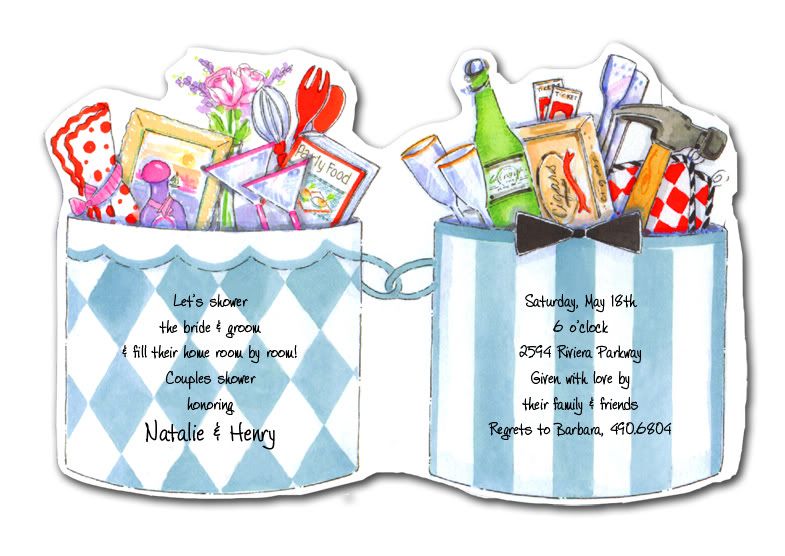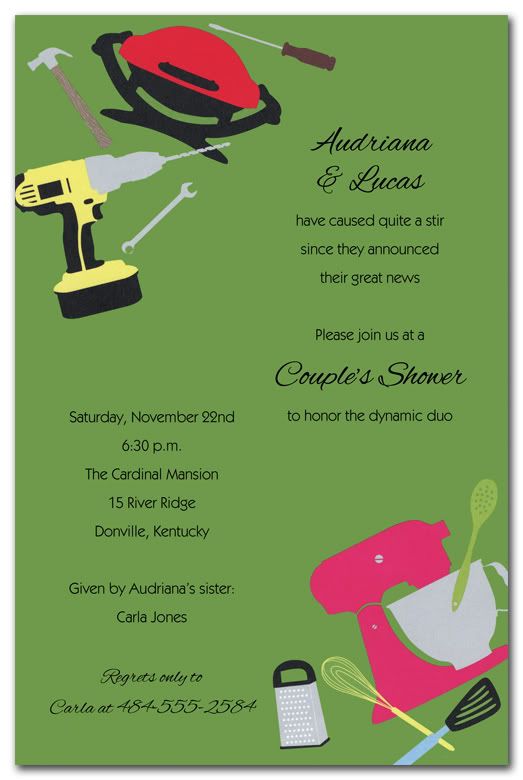 [Source: Invitation Consultants]
Men like:
Hammers. MEN SMASH!
Fishing.
Golf.
Malt liquor.
Belts and/or microplanes (probably not a microplane because you can use that in a kitchen, which is where girls go!)
Items that can be used to cook meat outside. (Inside cooking or non-meat cooking is GIRL STUFF.)
Cigars.
Champagne and champagne flutes. (Probably the most progressively gender-neutral item pictured! I thought men only drank red wine. Or, preferably, beer!)
Tickets to public events (presumably to use with his buds, because womenfolk should stay in the homestead).
Power tools.
Other hardware, but most importantly: HAMMERS!
Women like:
Wisks.
Spatulas.
Spoons.  Anything that lets us stir!
Standing mixers. For motorized stirring!
Chopsticks! Cheese Graters! Other things that will make us feel less alone in the kitchen.
Recipe books for party food so we can be great hostesses.
Napkins. Ladies are neat, and love things made of fabric!
Flowers.
Necklaces.
Piiiiiiiiiiiiiink!
Picture frames. (We're sentimentalists.)
Martini glasses. GIRLS' NIGHT! WOO!
Men's gifts and women's gifts are so different that they should be physically segregated, preferably by buckets.  Otherwise those flighty ladies might start stirring something with a hammer!  Can't have that.
I assume what is going on here is that a wedding shower is considered a girly event, so invitation designers are trying to restore the included groom's masculinity. What better way to do this than by reminding the guests how even though this groom is going beyond his traditional role of "just showing up" on the wedding day, he still has a Y-chromosome, one that constantly yearns to hammer something.
Fortunately, Viki tells me she found a couple's shower invitation that doesn't involve creepy gender policing.  Which is great, because we really don't need another hammer, and I don't want people buying Collin one just because they think it's the secret to saving his masculinity.