I'm getting more and more comfortable with having long(ish) hair. Part of that is just getting past the mega-awkwardness of hair that is trying to get past shoulders but thinks the only way around them is straight out.
But this is America, so the other part of it is PRODUCTS! Yes, things I can buy with money that help fill in the empty places in my soul.
First, octopus clips. My hair is way too plentiful to fit inside of normal jaw clip, so these things are awesome for me.  It has the same effect as a jaw clip, but actually holds everything up and stays in place.  I bought this inexpensive brand, but they're durable enough for me.  Collin eventually broke one, but only by literally throwing it against a hotel room wall as hard as he could. (If you are wondering why Collin threw my hair clip against the wall, well, so was I, so I just asked him, and he said, "I don't know, I guess I just felt like being obnoxious.")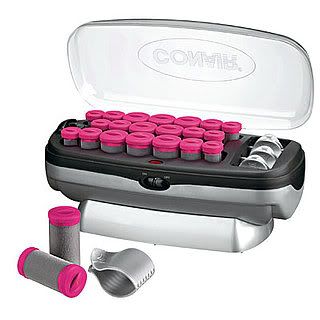 Second, hot rollers.  Dude, how have I lived this long in life without hot rollers? (Answer: I had short hair.)  I only like to wash my hair every other day or so, but I generally hate "day 2 hair."  My natural curl has generally lost its shape by day 2, but my hair is still not straight and tends to look messy.  Now that I have hot rollers, day 2 is my new favorite hair day.
Hot rollers are probably not for everyone, but oh boy are they ever for me.  First, my hair is amenable to heat-styling.  Second, I am not afraid to have my hair come out of the rollers and look like a giant puffball of 1988. Because I can see how that would scare away many women from hot rollers.
Just trust me: the end result settles after a little shaking and pulling and spritzing.  It's still kind of retro, but not in a theme-party-ready way.  And I prefer looking a little old-fashioned but polished to looking current but unkempt.
I use these rollers.  I picked them because they had the most rollers per case in the selection at Ulta, and I have a lot of hair, so more = better.  I like them a lot.  They heat up in under two minutes.  The clips also heat up, which is nice, and actually hold the rollers in place without leaving weird crease marks on my hair.  I like them so much I'm strongly considering buying a set of the jumbo sized rollers as well. (Just to be clear, I'm not being paid or compensated in any way to write this love letter to Conair.  I'm just happy with my new hair toys.)
Also note that Collin saw me writing this post and expressed disappointment at my long-hair love, because he thinks I would be "super cutie" with short hair and wants to see it.  Confidential to Collin: We're going to be together for the rest of our lives.  I promise you I will cut all my hair off again in that time.  Probably sooner rather than later.  Like, July 17, 2011 soon.  XOXO, Robin.