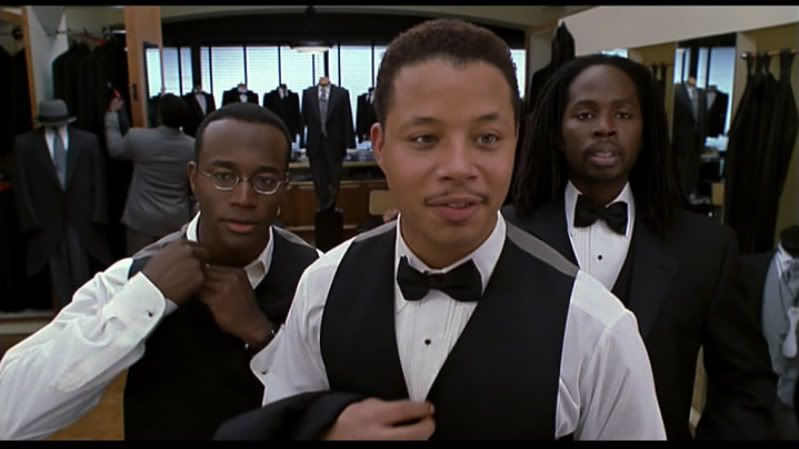 The Best Man is unlike most of the wedding movies I watch in that it is not about white people, but it is like all the wedding movies I watch in that all of the characters are rich and extremely successful. It is unlike most of the wedding movies I watch in that the characters have dimensions and believable flaws, but like most of the wedding movies I watch in that those flaws result in extremely stupid behavior that made me shout, "What are you DOING?!" at the TV. It is unlike most of the wedding movies I watch in that I really enjoyed it, but it is like most of the wedding movies I watch in that I haaaaated it. Wait, what? Let's just say it's uneven. Or, more specifically, that it has a really awful last five minutes that almost ruin the entire movie for me.
Taye Diggs plays Harper Stewart, the eponymous best man to Lance, the NFL-player groom, and Mia, Lance's beautiful college girlfriend who has put up with years of Lance's indiscretions, doesn't want a job, is an excellent cook, and, as far as Lance knows, has never been with another man. You can basically erase her face and write in "Fantasy Woman" where her mouth would be. She doesn't need her mouth, she only gets like two lines of dialogue.
The release of Harper's first novel, Unfinished Business, selected for Oprah's book club, is fortuitously timed with the reunion of this gang of college buddies at Lance and Mia's wedding. The gang of college buddies who are all obviously source material for the characters in Harper's book. Ruh roh.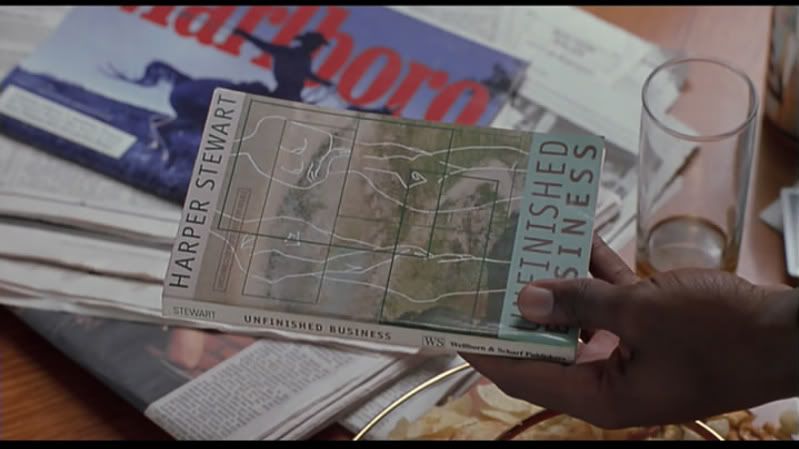 Too bad for Harper that he's one of those douches who does things that obviously cause trouble, like, say, airing his dirty laundry in a "novel," but then when he's called on it says, "Why do you always have to go making drama?" Say that in a mirror, buddy. Because aside form the questionable life choice of writing a book about his secrets and his friends' secrets, Harper also, you know, did all the stuff that was a secret before he wrote a book about it. Like, you guessed it: sleep with Mia when she was first dating Lance.
But his friends, including the groom, have only just started the book, when Harper's literary counterpart is all about the character Kendall, based on Nia Long's Jordan. Robin, Harper's girlfriend he doesn't love, is super jealous of Harper's, ahem, unfinished business with Jordan. Harper tells her to stop making drama. Then he makes a date to sleep with Jordan the night before Robin flies in for the wedding. Douche.
But Harper is not just an irredeemable douche, which is why I really liked the first 115 minutes of this movie.  He's clearly a good friend.  He even does what a sane person would do and tries to tell Lance about his fling with Mia before Lance gets to that part of the book, and only fails because of plot contrivance.  Jordan also felt like a well-rounded, believable character.  I don't approve of her asking Harper for sex when she knows he has a girlfriend, but I understood why she did it ("all work and no play make Jordan a horny nutball.").  Lance is also interesting.  He wants to get married because he believes the sacred institution will give him the strength to be faithful for once.  The other guys in the wedding party are even given a little bit of dimension (the other female characters, not so much).  And there is great acting all around.
When the shit hits the fan regarding Harper's secret about Mia, I found myself uncertain if the wedding would happen, and genuinely interested to see if it did.  That's a rarity for this kind of movie.
So why did I also haaaate this movie?  Well, just look: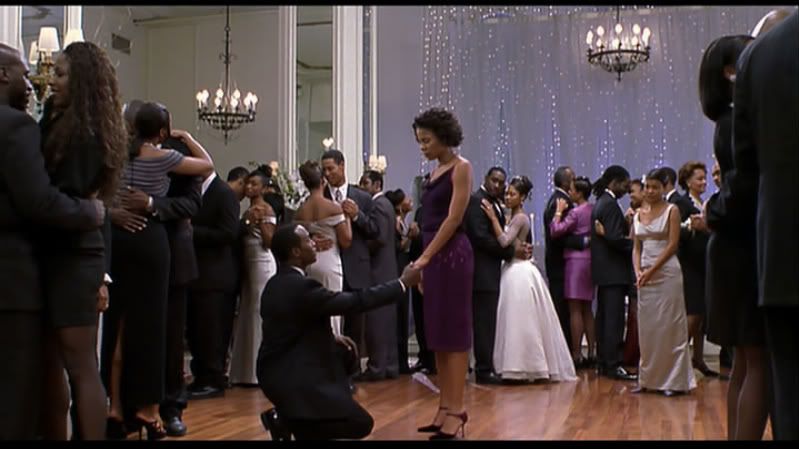 That's Harper and Robin.  Robin, this dude just wrote a book about not one but TWO chicks he's hung up on who are not you.  And he just tried to cheat on you with one of those two chicks like, sixteen hours ago.  He won't even say "I love you" on the phone to you.  Robin, RUN!  Don't say, "Yeah, whatever man" [I swear she says exactly that] and marry him.  I don't care how much money an Oprah endorsement brings in!  RUN FOR THE HILLS.
Also, the secondary characters all pair off, which I generally find obnoxious.  But it gets even worse: Harold Perrineau gets a stripper from the bachelor party, who makes an exception from her normal policy of not mixing business and pleasure because he throws the right quotation at her.  Gag.  Baby Wipes-enthusiast Terrence Howard gets the shrew Harold Perrineau just dumped, after publicly humiliating her during the normally icky garter portion of the evening.  Vom.  And Jordan, the career woman who asks for sex when she wants it? Stays celibate throughout the film.  Siiiiigh.
In summary, 90% of The Best Man is about complicated people dealing with a complicated situation in believable ways.  10% is completely unsuccessful schmaltz that made me throw laundry at the screen.  If you can handle a mixed bag, or if you can turn it off before you get to the terrible final scene, I still recommend the movie.