I've been looking at evening gowns to wear as my wedding dress. Am I making a terrible mistake?
What is the real difference between a white evening gown and a wedding dress, other than price? I see that evening gowns are more often polyester. Should I care? I remember reading that it's like a sin against style if your wedding dress closes with a zipper. Is it really?
Because aside from evening gowns being cheaper, I'm also finding them more appealing. Wedding gowns all look the same to me. Maybe I would feel differently if i put them on instead of seeing them on poorly designed websites. [Seriously, the wedding industry needs to get into a 12-step Flash Addiction program yesterday.]
Dresses marketed as evening gowns instead of wedding dresses take more license to be different. And much like with my engagement ring, the only thing I know I want in a wedding dress is "something different."
Evening gowns also tend to be a bit more revealing. Because I'm not getting married in a place of worship and I have a rockin' bod, I find that a plus.
I am, admittedly, terrified of buying an expensive dress via the Internet. [I'm old fashioned in that way. I also won't deposit checks with an ATM.] I want to see it in real life, touch the fabric, feel the weight of the whole thing, try walking and dancing in it. There are bridal shops in the area that carry "prom and special occassion" dresses, so that might be a solution.  But it also might make the savings go "poof!"
It is also entirely possible that the price differential between evening gowns and wedding dresses only exists in my imagination. For example, two Jovani dresses caught my eye last night:
[Sidebar: I think it is great that this double amputee model still finds work.  Really inspiring and inclusive stuff, Jovani.  Cheers.]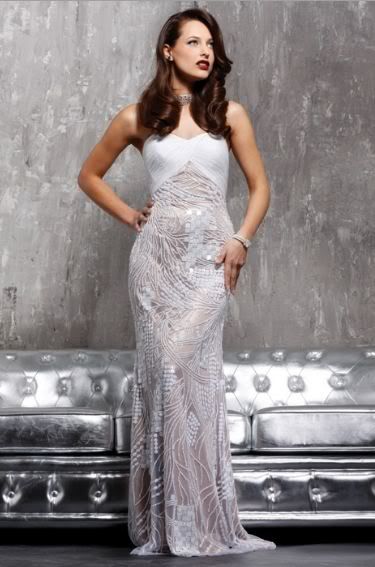 Can you tell which is marketed as Bridal?  Spoiler alert: the girl who looks more disgusted with the universe is the bride. [I realize that doesn't necessarily clear up the matter.  It's the second dress.]
The beaded one, even though it isn't a wedding dress, sells for around 900 bucks.  Who knows if the beads are sewn on, individually or in strings, or just glued.  That dress could turn out to be a $900 dollar disaster.  Plus it is hard to say what it would look on a person with feet.
The second dress is available on the Internet for under $700.  Under $700 only seems cheap after you look at a bunch of wedding dresses, where prices are depicted in strings of dollar signs, with the second dollar sign not even kicking in until you're in the >$2,000 territory.
Those were only the dresses that made me go, "Va Va Voom!" There were plenty of other dresses that I reacted to by thinking, "well someone could totally get married in that!" These were all in the $100-$400 range (click on the pictures for links to sellers):
In summary, I still feel adrift in this whole dress hunt. I should probably entirely ignore it until August, but it is a very tempting distraction when the alternative is an outline about wills and trusts.