My future mother-in-law Viki found the solution to my ring thing problem: individualized butter dish from Crate & Barrel: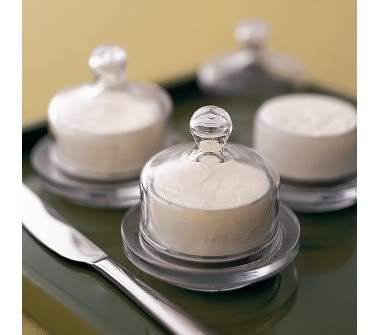 It meets all my criteria: it looks nice (mine is cuter because Viki painted on tiny hearts and swirls), it is relatively cat-proof, I can see inside of it, and it doesn't appear to be a sex toy.  Thanks, Viki!
In other news, it is my birthday! In The Knot's imagination, that means I am exactly one year away from our wedding.  Tell it to the imaginary venue we haven't booked, The Knot!
Speaking of which, tomorrow, despite the varsity-level celebrating I have planned for tonight, we begin a marathon string of venue tours at 9AM.  Any last-minute advice for questions to ask and things to look for at venues?
Failing that, any recommendations for cocktails I should try tonight?