Yesterday marked the start of my wedding dress shopping, you know, sort of in the way Memorial Day marks the start of summer.  Like, technically summer doesn't happen for almost another month, but nevertheless you've been acting like its summer since the first day the thermometer hit 80, BUT I DIGRESS.  I mean to say that I tried on white gowns, thinking about my wedding dress, but I was not REALLY wedding dress shopping.
Here is what I learned:
I am probably not going to be one of those awesome, breezy, no-nonsense, budget-savvy chicks who buys a white dress that isn't marketed as a bridal gown.  At least I'm definitely not going to be buying a non-bridal wedding dress from BCBG/Maxazria, even though they have a wide selection of floor-length white dresses.
I tried on this dress first: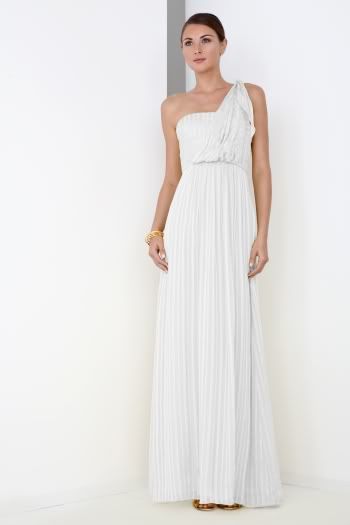 I am crazy for one-shoulder dresses right now.  But I realize it is a passing fad.  I don't want to buy a dress for my wedding that will be an avocado fridge in a year.  Anyway, this dress was lovely, but about two inches too short.  Even when I took off the heels the salesperson provided, you could see my entire foot, not just a delicate hint of toe.  I'm not crazy tall (between 5'8″ and 5'9″, closer to one or the other depending on my posture), so I suspected it was an innate design flaw with that particular dress.  I was wrong.  I had the problem with each dress I tried in the store.
[Beyond the jump, more too-short dresses and a possibly-offensive RANT on body size and inept advertising]
Next up, this dress:.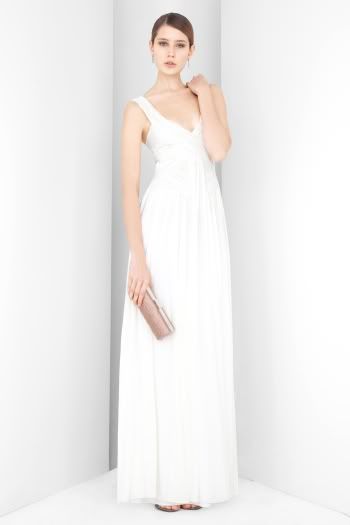 Look at that model.  Doesn't she look so demure, with her hand on her shoulder like that?  Well don't be deceived.  She took "SexyBack" very literally: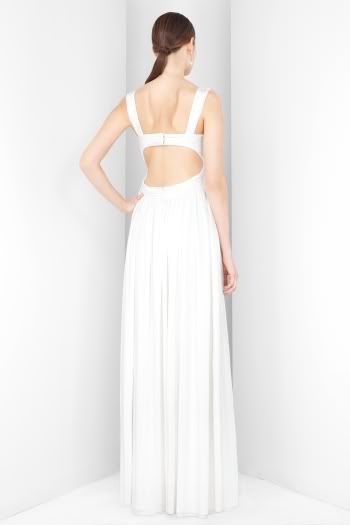 But this image doesn't even do that back justice.  Let's put it this way: I had visible side boob wearing this dress.  That's way too sexy for me to wear at my wedding, and probably too sexy for me to wear ever.  And I like wearing sexy dresses.  And guess what? It was too short as well.  I seriously suspect photoshop shenanigans to make it look like it can sweep the floor when a MODEL is wearing it.
Speaking of models wearing things, the last dress I tried on before I gave up on this horrible charade (/ran out of floor length white gowns available in my size) :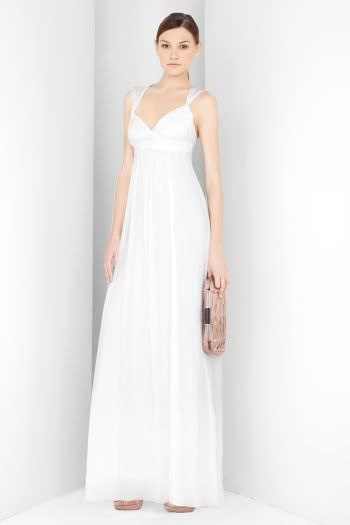 The reason the model looks so bored is that she is wearing the least interesting dress ever sewn.  There was some funny business in the back which I think was supposed to make up for it, but it didn't.  You know what I think would have made up for it?  Having a fabulous set of tits, a  round tummy, and a hefty ass.  I don't have those things.  I am tall and skinny.  I'm just like a model, only I smile sometimes and have bad skin.   So you'd think the world would be my oyster.  Every dress that I see in a magazine will look just as good on me as it does on the model!  Well, yeah.  Most of the time. Neener neener.
But sometimes, dresses look terrible on models because they need to be worn by what is sometimes obnoxiously referred to as a "Real Woman."  You know, a woman with curves.  [Psst: Curves are a euphemism for fat!]  Anyway, this hopefully-not-too-offensive introduction is leading up to a RANT:
This is not high fashion.  These dresses are pricey (by non-bridal standards), but they are mass-produced and sold nationwide.  I can't understand why BCBG is advertising this dress on the body type it looks the worst on, when there are plenty of gorgeous women out there with bodies that could fill out that dress and MAYBE, just MAYBE make it not the most boring dress ever.
You can tell that model is jutting out her bony hip to try to create the illusion of a curvier body, desperate to save the dress from its boring, boring fate.  A for effort, skinny model.  But D- to you BCBG, because you could have just put that dress on a woman with hips that jut out naturally.  Because those hips have fat stored on them! In a shape reminiscent of… a curve!  Which is what "real women" have.  BCBG, you have to be able to find one of those women to model your dress!  They are "REAL!"
And then the rest of the "real women" looking at your catalog might think, "Wow, that dress is sex dressonified.  I need to try it on, and then drop 300 bones on it!"
Sure, me and the other tall, skinny "fake women" will look at it and think, "that's lovely, but on me it would probably look like someone rolled out 52 inches of chiffon across a wooden board.  Next!"  But that is OK. We're not going to buy this dress anyway, because it looks BORING on us.  And we can't photoshop the hemline to make it appropriate.
/rant
So… back to the original point of this post:  in addition to these dresses all being too short and otherwise unacceptable for me to wear ever, I never felt like a bride.  And that matters to me.  Other ladies take a simple dress and bride it up with badass accessories, but I'm not an accessories type of person.  I never wore any jewelry ever before I got my engagement ring.
Also, I am the kind of privileged and financially irresponsible person who might buy any of these dresses (if they were long enough) to wear to a dinner party (once they hit the sale rack, natch, but that doesn't make it reasonable).  I want my wedding to feel more special than that.  I want my wedding dress to be something I could never wear to anything but my own wedding.  So if I want to save money on my dress (but in the interest of full disclosure: it is currently in the "splurge" category on the budget sheet), I think I'm going to have to take another approach.